26/05/2023

|

Sesotec
The interpack trade fair 2023: A complete success for Sesotec
Motto "Food Safety is our Passion. Anytime and Anywhere." struck a chord with visitors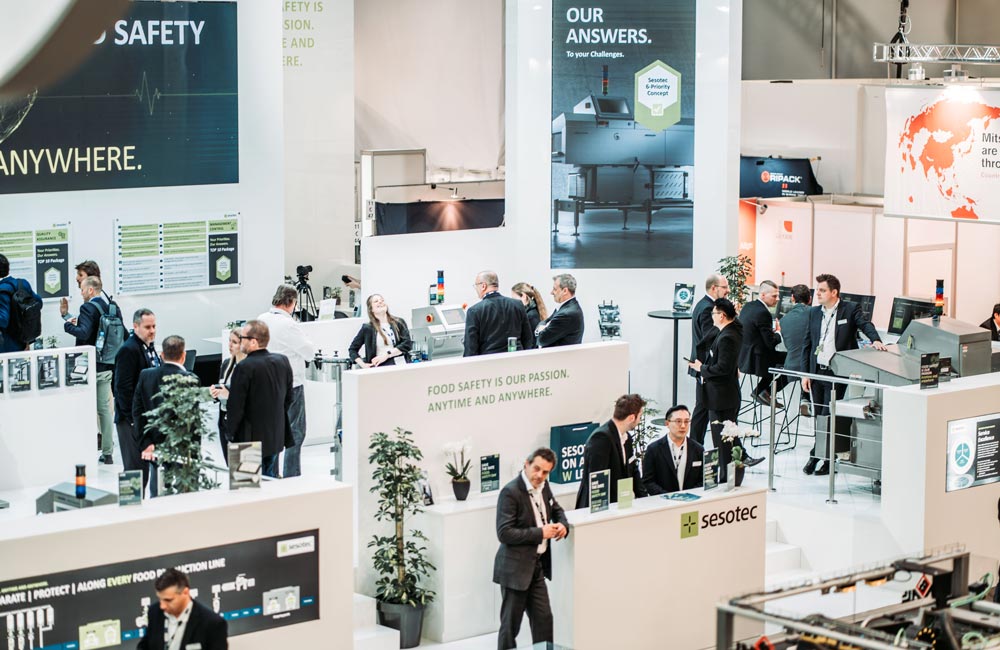 Sesotec, a leading provider of intelligent and innovative product inspection technologies and services for the food industry, is pleased with the great success of interpack Messe 2023. The event, which took place from May 4-10 in Düsseldorf, Germany, provided Sesotec with an excellent platform to showcase its latest hardware and software innovations as well as service solutions.
In particular, the presented innovations for foreign object detection with artificial intelligence (AI), the compliance package and the X-ray devices attracted attention. The combination of advanced technology, precise foreign object detection and comprehensive service offerings impressed national and international trade visitors and proves Sesotec's innovative strength when it comes to ensuring the highest product quality, process stability, efficiency and safety.
Exhibition stand with heartbeat moments
Sesotec's passion for safe food was evident in every facet of the booth: from the in-depth expertise of sales representatives from around the world, to the performance of the hardware and software innovations and service solutions on display, to the live, visual and audio presentation experience.
Sesotec emphasized that it is not just about hardware, but that software and service are the keys to success. Its expertise in Critical Control Points (CCP) was highlighted, but also its ability to provide customized solutions for all other control points. The unique software solutions, including the Compliance Package, THiNK with AI and Insight.WEB, attracted great interest from visitors.
A special highlight at the booth was the demonstration of the high-speed RAYCON product inspection system, which operates at an impressive speed of up to 1,000 pieces per minute. The live demonstration of the machine attracted numerous visitors and highlighted the high performance of Sesotec's best-in-class solutions in the areas of quality assurance, operational excellence and management control. However, this does not only apply to RAYCON, but to all Sesotec equipment and systems.
The extraordinary booth concept also contributed to the visitors' enthusiasm. The combination of height, LED elements, high gloss and light created an impressive atmosphere that reflected Sesotec's passion and commitment.
Johannes von Stein, Sesotec Vice President Sales Food, is extremely satisfied with how the show went: "interpack 2023 was a great success for Sesotec. The high demand for our innovations confirms that we can provide answers to the existential questions of our customers regarding sustainability, digitalization and automation, and offer forward-looking solutions. The positive feedback showed that our trade show motto 'Food Safety is our Passion. Anytime and Anywhere.' struck a chord with visitors and that we are on the right track with our concept of offering hardware and software solutions for the detection and separation of metals, foreign bodies and quality defects along the entire production line. We are already looking forward to interpack 2026, where we will certainly present many innovations again."
Save the date: World Food Safety Day on June, 7 2023
To further advance the topic of food safety, which defined interpack 2023, Sesotec is planning a variety of events. The first date is the World Food Safety Day on June 7, 2023. On this day, Sesotec will provide information in seven showrooms worldwide (Dorsten/Germany, Milan/Italy, Rennes/France, Pune/India, Bangkok/Thailand, Guelph/Canada, Bartlett/USA) about what challenges food safety entails and present suitable solutions.
For more information about World Food Safety Day on June 7, 2023 at Sesotec, visit
www.sesotec.com/emea/en/lp/food-safety-day