07/12/2022

|

Sesotec
"For Sesotec, the K show 2022 was the best ever".
For the first time, trade fair booth in new, extraordinary design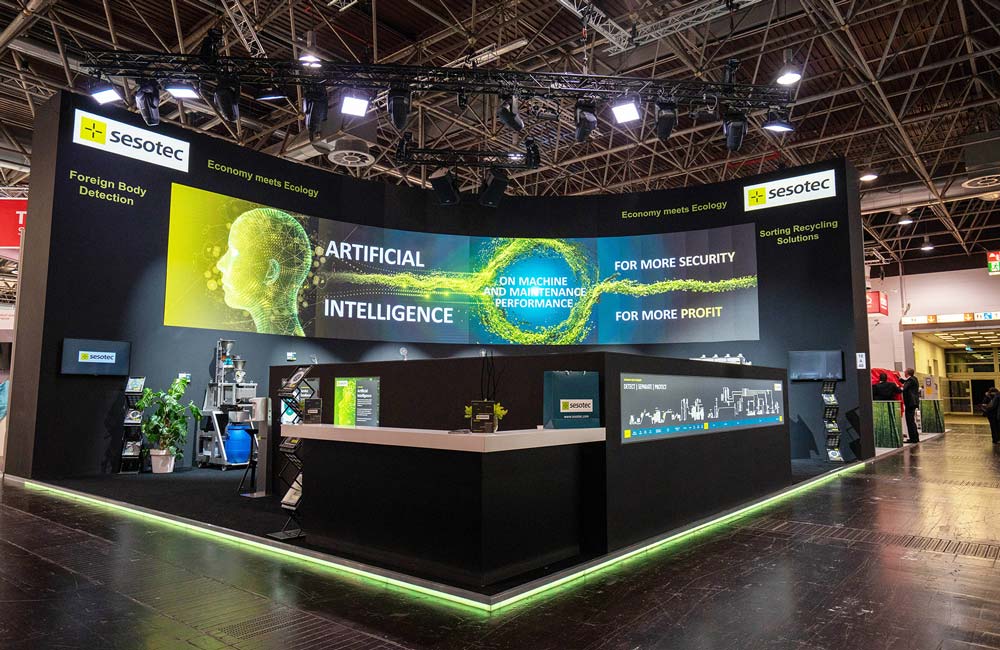 Schönberg-based Sesotec GmbH, a leading manufacturer of metal detection, sorting and analysis systems, presented itself at the K trade fair in Düsseldorf from October 19 to 26 under the motto "Economy meets Ecology". The company is thus positioning itself as a provider of answers to the key global issues of the circular economy, sustainability and resource conservation in the plastics industry.
Climate change, the scarcity of finite resources and the vast quantities of plastic waste in the world's oceans are key issues in politics, business and society and are putting the plastics industry under increasing pressure. The circular economy poses a variety of challenges for plastics manufacturers, processors and recyclers - but also offers numerous opportunities. "The K trade fair in Düsseldorf was an excellent opportunity to demonstrate the contribution our foreign object detectors, material analysis and sorting systems and services can make to solving the challenges surrounding sustainability, the circular economy and CO2 reduction," says Dietmar Dieing, Sesotec Vice President Sales Plast." Michael Perl, Group Director Sales Division Sorting Recycling, adds, "Our plan to use the K show as a platform to present our holistic concept 'Economy meets Ecology' has been fully successful. This approach is key to finding answers to the pressing questions of how to reconcile the circular economy, increased efficiency, profitability and sustainability."
Sesotec CEO Joachim Schulz expresses that he is more than satisfied with the outcome of the trade fair: "We were able to present our metal detectors, analysis and sorting systems to the visitors at this K trade fair and were impressed by the response. In the area of machines and services especially our solutions with artificial intelligence were in focus. We can say without reservation that this year's K show was the best ever."
For more information on Sesotec K-Fair 2022 highlights, visit the website:
www.sesotec.com/emea/en/lp/k-2022