04/09/2019

|

Sesotec
Sesotec is member of the "SAVE FOOD" organization
Concrete contribution to reduce food waste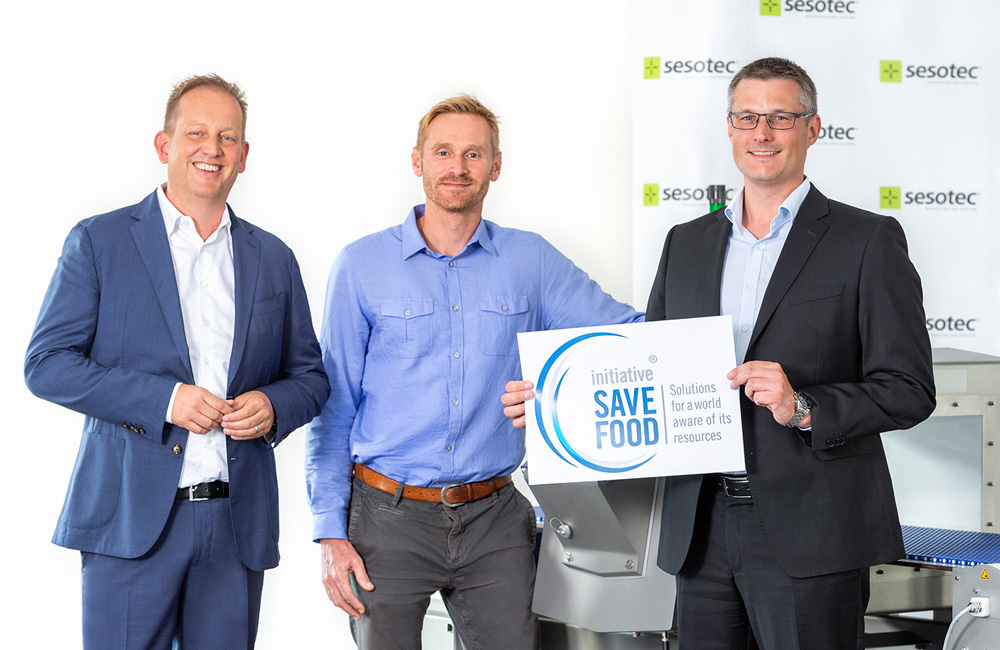 The company Sesotec GmbH is contributing innovative solutions to reduce food waste. In the picture from left to right: CEO Marc Setzen, Group Director Sales Division Product Inspection Andreas Reckziegel, Group Director Marketing Christian Stadler.

Sesotec is now participating as member of the "SAVE FOOD" organization, and thus actively contributes to reducing the waste and loss of food. "SAVE FOOD" is a joint initiative of the Food and Agriculture Organization FAO, the environmental program of the United Nations, UNEP, Düsseldorf Trade Fair, and "interpack", the international trade fair for packaging machines and processes. Through a wide range of projects, fairs and conferences, the companies taking part in this initiative want to raise awareness among decision-makers in politics, the economy and industry as well as among consumers, and dedicated themselves to counteract food waste.
Sustainable management and conservation of resources are cornerstones of Sesotec Group's corporate philosophy. For that reason, the manufacturer of machines and systems for contaminant detection and material sorting decided to become a member of the "SAVE FOOD" initiative. Objective is to provide customers from the food industry with solutions that contribute to the minimisation of food waste and at the same time increase productivity and product quality.
Andreas Reckziegel, Group Director Sales Division Product Inspection explains: "The availability of sufficient and safe food is one of our driving challenges. Within food production, our highly sensitive contaminant detectors and material sorting systems allow the accurate removal of unwanted parts such as contaminants or faulty products from the material flow, with a minimum loss of good material."
"With our more than 40 years of experience and our innovative machines and systems we make our contribution to ensure that no contaminated food reaches the customer. Product recalls, for example due to contaminants that were found in a product, not only damage the image of a company, they also involve immense waste because all the products of a recalled batch must be destroyed", says Reckziegel explaining the commitment of Sesotec.
Marc Setzen, CEO of Sesotec, adds: " Being a member of "SAVE FOOD" is very important for Sesotec, because food wastage is not only an ethical, but also an economic problem. The EU accounts for about 88 million tons of food waste each year, estimated to cost € 143 billion. About 13 percent arise during food processing, thereof three to five percent by false reject. By working in partnership with food industry companies, we help to prevent this waste."