16/04/2019

|

Sesotec
IFFA 2019: Helping shape the future of X-ray inspection
RAYCON D+ design study to encourage customer co-creation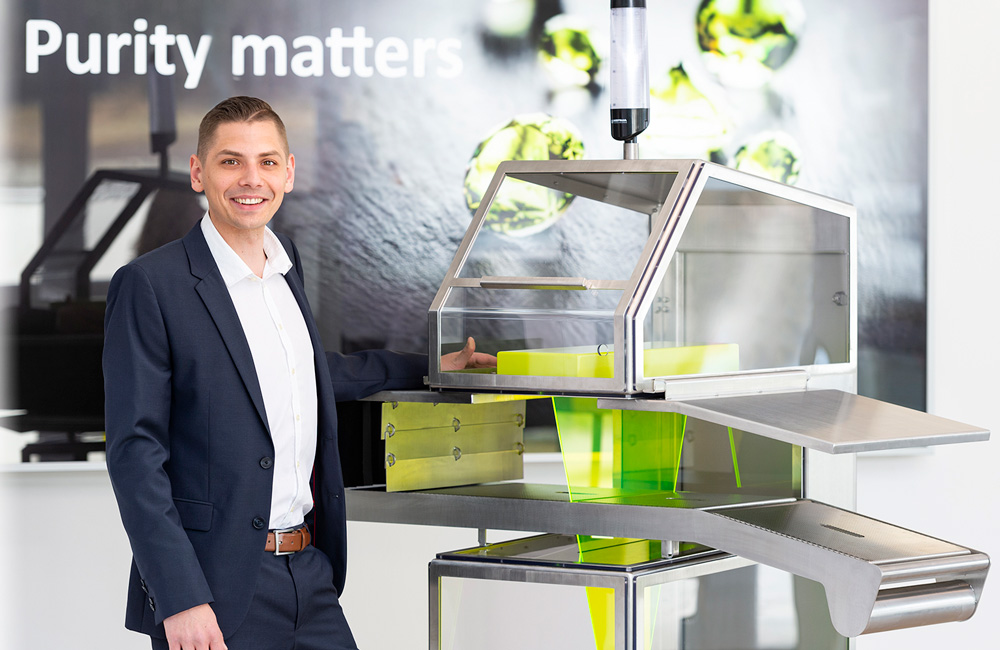 At IFFA 2019, Uli Hurzlmeier, product manager for X-rays at Sesotec, will present a design study on the RAYCON D+ X-ray scanner to encourage discussion of the features and functions that an ideal device should offer in the future. (Photo: Sesotec GmbH)
At IFFA 2019 in Frankfurt (Hall 9.1, Stand C58), Sesotec GmbH will present a design study on the RAYCON D+ product inspection system. To promote co-creation, Sesotec plans to talk to visitors to its stand about the future demands facing X-ray machines for unpackaged meat products. The showcased design study, "X-ray inspection for the future", is a transparent prototype that can be used in detailed discussions of how ideal solutions will need to be engineered in the future, which features they should have and where untapped potential still lies.
Listening to the customer: the demands facing X-ray inspection in the future
Using the showcased design study, "X-ray inspection for the future", visitors to the Sesotec stand will be able to discuss various aspects that are relevant for the meat industry and provide feedback on trends, giving them a practical opportunity to help shape the next generation of X-ray scanners. Uli Hurzlmeier, product manager for X-rays at Sesotec, will be on hand to answer questions such as: How do X-ray scanners support compliance with food guidelines such as IFS, HACCP and BRC? How versatile is the device in use? Does the device meet hygienic design standards and EHEDG guidelines? How economical is the system? What if the use of conventional X-ray inspection is not enough? How does the dual-energy method work? What alternatives are available for parts that come into contact with products, such as anti-radiation curtains?
Sesotec IFFA special: Lifetime Warranty service package for X-ray machines
At its stand, Sesotec will be placing a special focus on service offerings for X-ray machines. Service life in 24/7 use is a major issue, especially when it comes to core components such as X-ray tubes and detectors. Sesotec is providing support and a solution by presenting its Lifetime Warranty service package.
All information about Sesotec at IFFA is available at
https://www.sesotec.com/en/iffa-2019
Sesotec at the IFFA Forum 2019!
"Detection of plastics with dual-energy technology"
Expert lecture by Uli Hurzlmeier, Product Manager X-ray, Sesotec GmbH
Tuesday, May 7, 2019, 3:40 pm - 4:00 pm
IFFA Forum (Hall 11.1 C40 )

SAVE THE DATE!