23/02/2022

|
6 Priorities to Evaluate when Choosing a Food X-Ray System
The optimal x-ray inspection system for a food processing facility should excel in six areas: Conformity, Safety, Operation, Hygiene, Efficiency, Service.
X-ray inspection devices are an indispensable technology for the global food industry, helping to ensure the quality and safety of food products. But while the functional principles of x-ray detection are always the same (a beam passes through the product, creating a layer-by-layer image for a computer to evaluate as either safe or faulty), x-ray detection systems are not all equal. Different x-ray systems can display considerable differences in performance that can in turn have a significant impact on food safety.
To help food manufacturing and processing businesses better evaluate the wide range of x-ray inspection devices on the market and choose the optimal system for their production process, the food safety experts at Sesotec have developed a simple six-point framework.
The 6P-Concept
The 6P-Concept encompasses six priorities that food processors can evaluate to determine if an x-ray inspection system will optimally serve their overarching food safety goals.

1. Conformity
The system should make it possible to comply with all necessary food safety standards and regulations.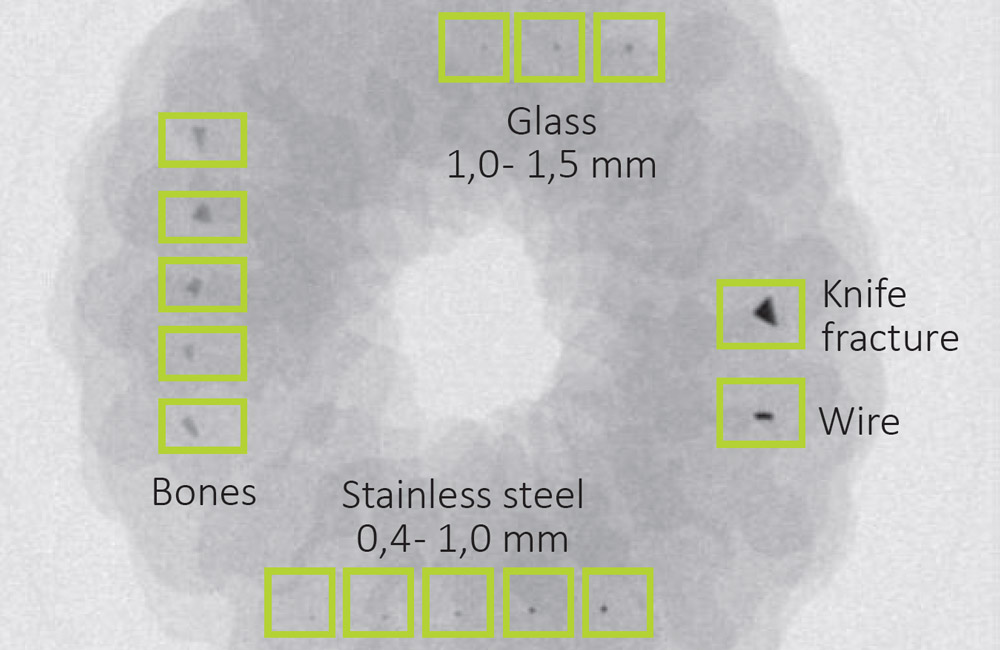 X-ray inspection devices are a tool for avoiding the physical contamination of food products. In order to assist manufacturers in upholding legal requirements and third-party standards for food safety, x-ray detection devices must be integrated at identified critical control points and consistently perform at detection accuracy levels appropriate for the present risk.

2. Safety
The system reliably protects employees, products, the brand, and data.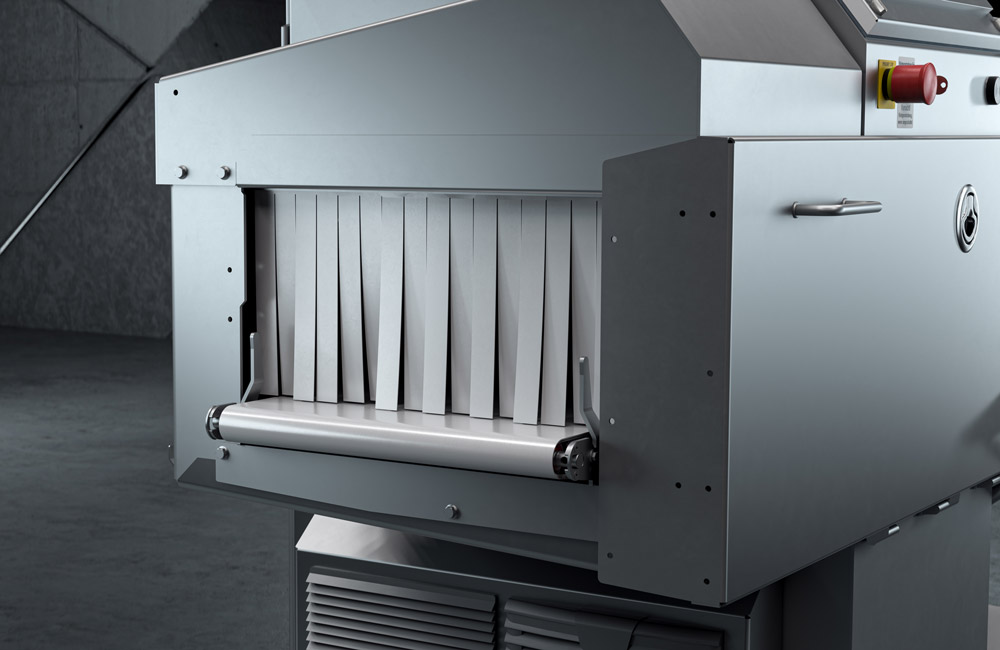 Beyond protecting consumers from contamination hazards, x-ray inspection machines should also serve to protect the company who uses it in a number of ways.
For one thing, the consistent detection of physical contaminants in products is crucial to preventing product recalls. This in turn protects the brand from financial and reputational damage. And in order to ensure food traceability, data processed by x-ray inspection devices must also be stored securely in such a way that it can be quickly recalled and referenced.
Additionally, x-ray systems must be built to minimize exposure to radiation for both employees and products.
3. Operation
The system should be simple and intuitive to operate so as to reduce the risk of human error.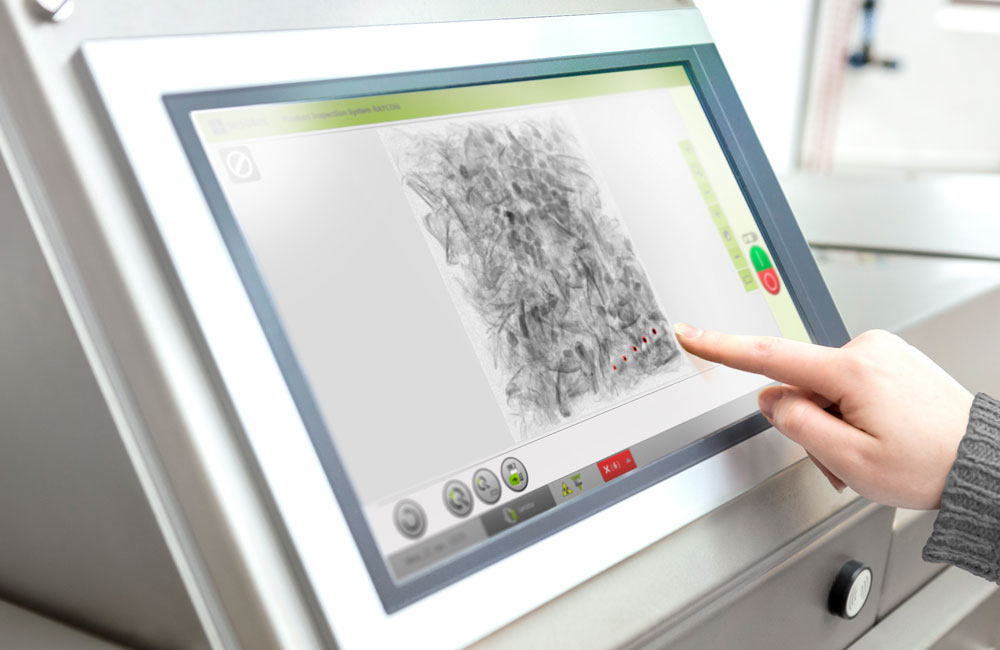 The initial set-up of a new x-ray inspection device is always a complex process that must be performed by an experienced specialist. However, once in operation, an x-ray food scanner should include an electronic interface that is intuitive enough that all relevant employees, regardless of experience level, can feel confident using it. Clear and simple functionality and navigation helps to prevent errors and reduce time and resources spent training staff.

4. Hygiene
The system is designed according to the best practices of hygienic design and offers easy cleaning and maintenance.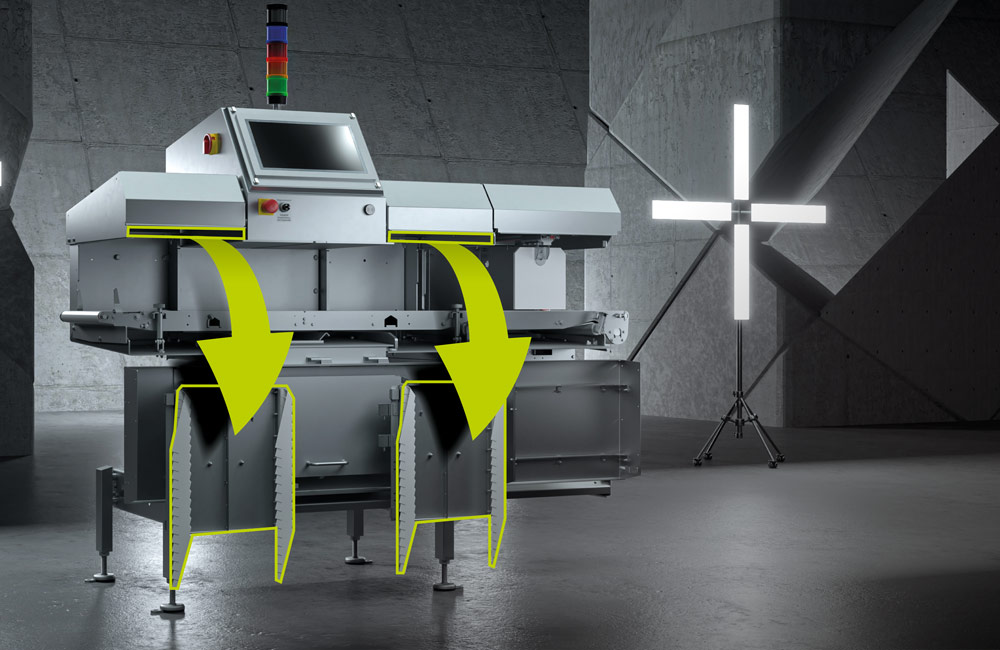 Like any equipment used in a facility that processes food, x-ray inspection devices should be designed to minimize the risk that the device itself becomes a factor for cross-contamination. An x-ray inspection device built according to hygienic design best practices should be easy to clean, resistant to wear, and free of areas where moisture can accumulate, among other things.
5. Efficiency
The system should increase output and reduce food waste.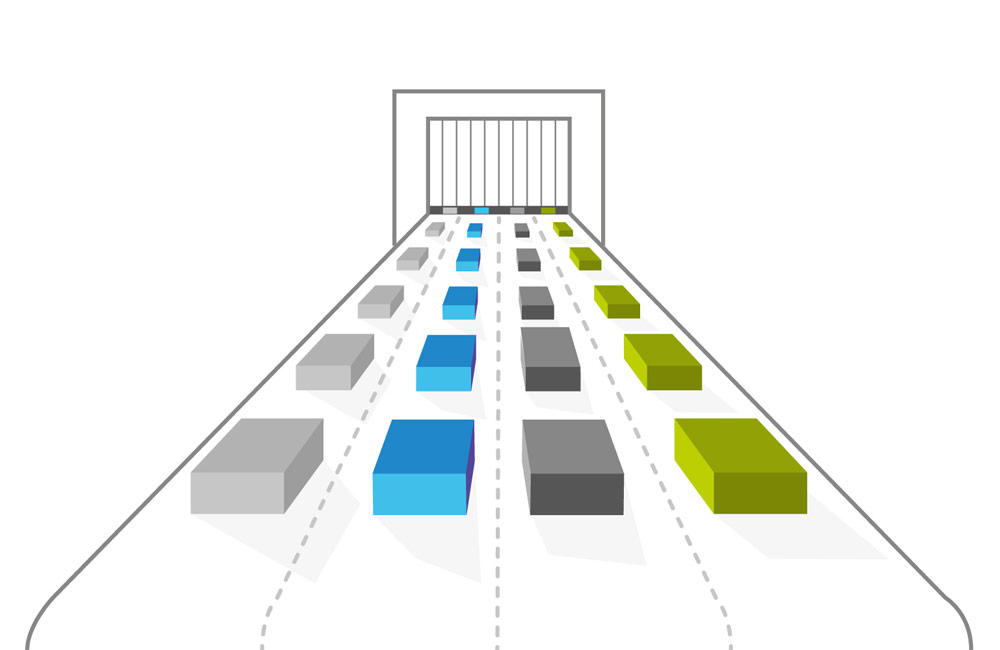 The optimal x-ray inspection device should improve a processing facility's productivity rather than hinder it. To do so, the system must be able to reliably operate at the pace of production and should experience as little unplanned downtime as possible. Furthermore, x-ray inspection devices should be as precise as possible so as to avoid wasting food through false rejects.
6. Service
The manufacturer of the system should provide comprehensive service and support to guarantee continued performance.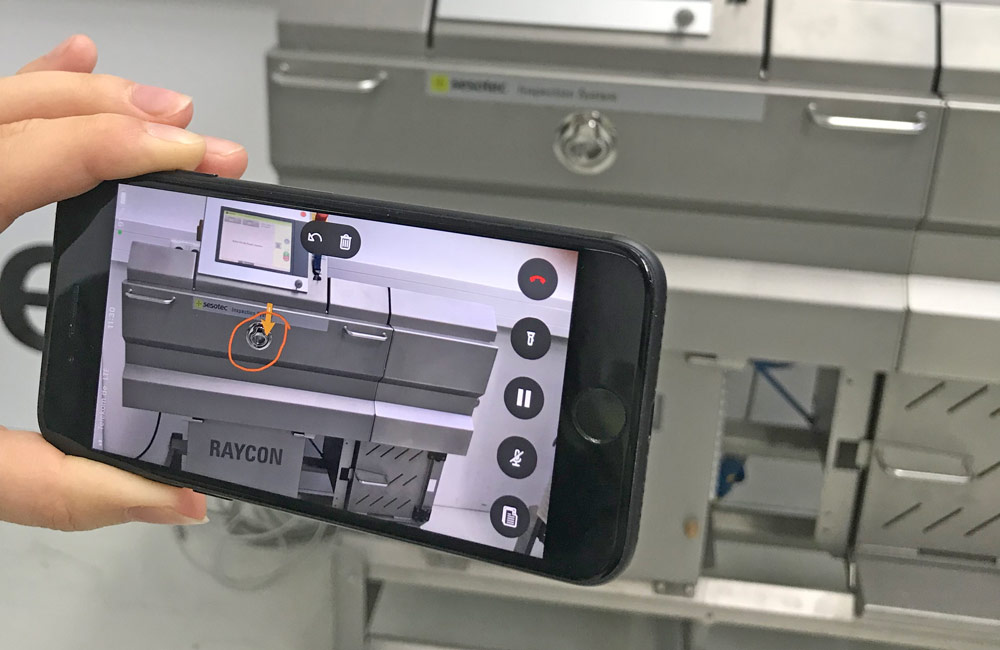 Over the course of an x-ray device's lifecycle, ongoing service from the equipment manufacturer is crucial to ensuring that the proceeding five points are sufficiently addressed. From validation assistance prior to the purchase, to the initial installation and calibration of a device, to ongoing maintenance visits, predictive maintenance, and quickly supplying spare parts – the breadth and quality of services provided by the original equipment manufacturer are decisive for ensuring the continued effectiveness of your device and the avoidance of unplanned downtime.
---
NEW: Discover the new RAYCON family - a complete portfolio for innovative and directive-compliant product inspection!


---


Checklist for the optimal x-ray inspection device
The following checklist gives specific examples of features and specifications that a food processor might consider when assessing a device according to the 6P framework:
1. Conformity
Detection accuracy – The x-ray system meets or exceeds requirements for detection accuracy. IFS Food V7, for example, requires that systems can detect particles of stainless steel as small as 0.8mm.
In-process integration – The x-ray system can be integrated directly at all critical control points identified in the HACCP plan.
Documentation – The x-ray system archives inspection data in keeping with traceability protocols.
Certifications – The x-ray system carries certifications from UL and CSA, among others.


2. Safety
Radiation dose – The radiation from x-ray system is less than 1 mSv/a, a value which does not pose a danger to employees.
Design for safety – The device includes safety features, such as a safety cover whose removal automatically turns off the x-ray beam.
Data security – The x-ray system uses a secure user login system, such as RFID, to protect data.


3. Operation
Ergonomics – The x-ray system interface is physically easy to use (e.g. touchscreen operation, height position, legibility, RFID login)
Intuitive design – The x-ray system interface is easy to navigate, requires no prior experience to quickly learn, and includes an auto-learning function.
Multifunctional – The x-ray system interface can automatically inspect different products on the same line.


4. Hygiene
Accessibility – The x-ray system includes features, such as toolless access to the conveyor belt, that simplify cleaning and maintenance.
Hygienic design – The x-ray systems is designed in a way that reduces cleaning effort, such as through the elimination of radiation protection curtains.
Hygienic materials – The x-ray system is built with materials that are certifiably food-safe, wear-resistant, and suitable for wet cleaning.


5. Efficiency
Operating speed – The x-ray system can process goods at a pace in keeping with production by means of parallel lanes and high conveyance speeds.
Sensitivity – The x-ray system can be configured to detect further defects such as under- and overweight packages, broken and misshapen products.
False rejection rate – The x-ray system displays a verifiably low rate of false rejects, thus reducing food waste.
Predictive maintenance – The x-ray system includes early alerts for maintenance requirements, such as a notification when the x-ray source must be changed.


6. Service
Pre-purchase – The manufacturer of the x-ray system provides validation assistance
Post-purchase – The manufacturer provides installation and configuration services as well as training materials for employees.
Technical support – The manufacturer provides comprehensive remote support and on-site maintenance, as well as service packages for spare parts and replacement devices.
Warranty – The manufacturer offers robust warranty and service packages for every stage of the device's lifecycle.


Conclusions
In order to sufficiently support food safety in a processing facility, a sophisticated x-ray inspection device should excel in all areas addressed by the 6P concept. Over time, deficiencies in any of these six aspects could lead to significant performance issues that carry negative consequences for food safety and company.
On the other hand, x-ray devices whose design, functionality, and service show careful attention to each of the six priorities can provide reliable and lasting performance in service of your company's food safety management program.
---


E-Book: RAYCON Familie – X-ray inspection holistically thought through
Sesotec has completed the proven RAYCON product family and thus offers X-ray inspection solutions for all applications in the food industry.

In our E-Book you can learn more about the RAYCON X-ray systems and how they implement the 6 priorities of food processing.