The Circular Economy - Closing the plastics loop
The plastics industry is under pressure. Between climate change, the depletion of finite resources, and the vast amounts of plastic waste floating in the world's oceans, the perception of plastic is changing among politicians, businesses, and consumers alike. Establishing a circular economy promises numerous opportunities for manufactures, processors, and recyclers of plastics; but it would also come with a variety of challenges.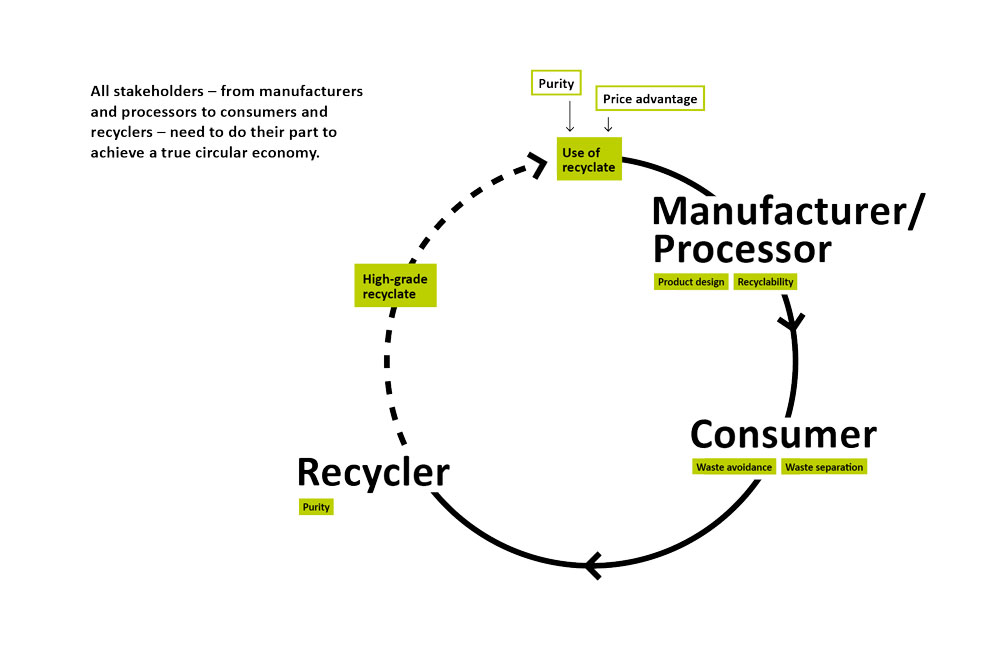 From processors and manufacturers, to consumers, to recyclers: to establish an enduring circular economy, all actors must see a benefit.
The availability, quality, and price of raw materials play a significant role in the profitability of plastics manufacturing and processing. The same also applies to the recycling industry, where fluctuations in the price of recyclate and virgin material pose additional challenges.
For businesses that manufacture, process, or recycle plastics, flexible technology is key to achieving optimum profitability. Facilities outfitted with a coordinated, sophisticated system of metal separators and sorting equipment are positioned for higher system availability and processing efficiency.
Material efficiency: Get more out of plastics
Like recyclers, manufacturers and processors of plastics must contend with fluctuations in the availability of recycled materials. This is especially true in times of high demand. Furthermore, not all recycled materials are of high enough quality or available in sufficient quantities to be suitable for further processing. The higher the quality of the recycled material, the more efficient its processing.
Better process reliability and system availability lead to greater profits
The plastics, rubber and chemical industries often use expensive equipment, such as injection-moulding machines, calender rolls, extruders and blow-moulding machines. The continuous operation of these machines is tremendously important to a company's profitability. However, operations can come to a standstill if even the tiniest pieces of metal become lodged in melt filters, hot runners or nozzle tools, obstruct check valves or cause damage to plasticising screws or cylinders. Metal detectors and magnet separators can prevent equipment failure from occurring. The timely detection and removal of contaminants increases process continuity and productivity by reducing downtime. 
Higher quality for your customers
Product purity is a key quality concern
in plastics, rubber, and chemical production
.
In addition, quality issues
may
arise if metal contaminants lead to blockages in production equipment, causing too little material to be injected into the moulds of plastic parts. In some industry segments, such as hygiene products, consumer protection
is
yet
another argument for why metallic contaminants must be avoided at all costs. The use of metal detectors can lower the reject rate, prevent complaints and enhance customer satisfaction.