Food Safety - An Overview
Anyone who produces or processes food is faced with a wide range of food safety issues and challenges. In an industrial environment, food safety encompasses many different aspects that are not always easy to keep track of. With our series of articles on food safety, we aim to shed some light on the subject.
We start at the beginning and explain, among other things, what food safety means, the role of technological developments, and what needs to be considered in terms of standards and legal regulations. Finally, we will take a closer look at the particular challenge of product inspection or foreign object detection. We will continue to add new information to this series at regular intervals. For now, we hope you enjoy browsing and reading and that we can provide you with useful information for your challenges. If you would like to discuss a food safety issue directly with us, please do not hesitate to
contact us
.
Content overview:
General information on food safety


Standards, regulations and certification in food safety



Product inspection and foreign object detection as an elementary component of food safety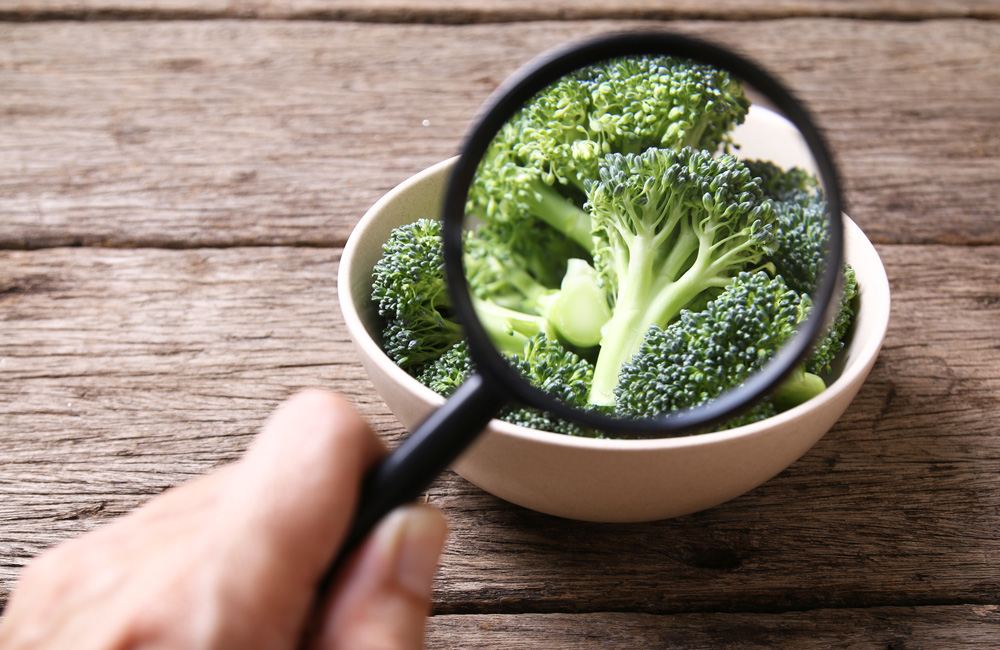 General information on food safety
What is Food Safety?
What are the legal regulations? Who enforces the regulations on hygiene in food production? What is the history of food safety? Sesotec experts explain in this article why we have food hygiene regulations and how important they are in a globalised world.
→ Learn what food safety means

How the growing world population will shape the future of the food industry
The growth of the world's population requires innovation to feed people in 2050. In this article, Sesotec explains the role of automated processes for the food of the future.
→ Find out how the world's growing population is affecting food safety

How better food safety technology can help minimise waste
Every year, millions of tonnes of food are thrown away in the name of food safety. Advanced inspection technologies can help maintain safety and prevent food waste.
→ Read how modern technology can reduce food waste

How food safety standards impact production
For industrial food producers, ensuring food safety impacts every aspect of their operations. Corresponding measures go hand in hand with high but necessary investments to ensure the profitability of companies.
→ Read how food standards affect production

Traceability of food: Requirements and opportunities in the age of Industry 4.0
A robust, digitised food traceability system can bring huge benefits to productivity, profitability, compliance and corporate image. In this article, we look at the role an intelligently connected production environment plays in improving food traceability.
→ Find out how to improve traceability in food production

Food Safety: Key element of corporate strategy in the food industry
Food production and processing is confronted with numerous influencing factors, including fluctuating raw material prices, climate change, global population growth and rising quality standards. To meet these challenges, companies need to make food safety a core part of their strategy in the global food industry.
→ Find out here how a targeted product inspection equips you for the future and how you can find solutions for your priorities.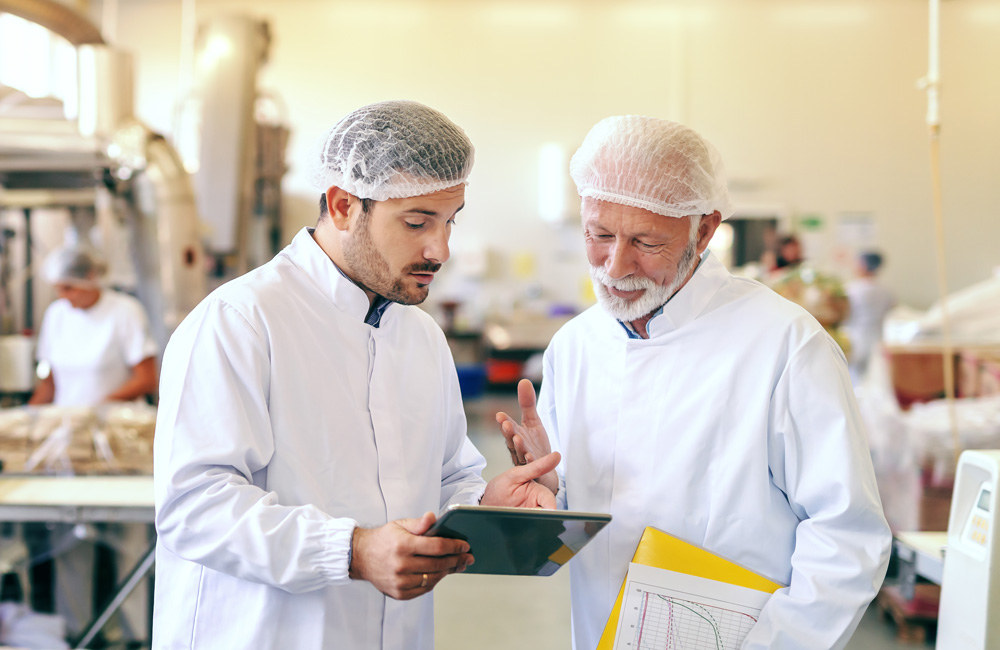 Standards, regulations and certification in food safety
What HACCP means and how to implement it
HACCP is the foundation of any modern food safety programme. Learn how to create a HACCP plan for your food business.
→ Find out more about the basics of an HACCP plan

Legal requirements and important standards in the food industry and their differences
Food safety is one of the central aspects of the global food industry and food safety standards are the entry tickets to many markets. On the one hand, each country has its own legal regulations (e.g. FSMA in USA), on the other hand there are also private sector standards such as IFS, BRCGS, SQF and FSSC 22000. In a free white paper we explain the legal requirements of food safety, compare the most important standards and thus help you to make a choice of a food safety standard.
→ Find out more about food standards and legal regulations

IFS Food Version 7: The most important changes and updates
Version 7 of the IFS (International Food Standard) was published in March 2021. The changes provide more transparency as well as conciseness and reduce the requirements for documentation obligations. At the same time, the focus on on-site audits and a culture of food safety is strengthened. We explain the most important changes and what they mean for food safety.
→ Read more about the key changes in IFS 7 here

Hygienic Design and its role in certified food safety management
By ensuring that their buildings and machinery comply with hygienic design guidelines, food manufacturers not only reduce risk in their processes, but also achieve a number of other benefits. In this article, we discuss the importance of hygienic design for food processing facilities in terms of regulatory approval and food safety standards.
→ Find out more about hygienic design in food processing

Food safety audits: what to expect when pursuing certification
On-site auditing is critical for international food safety certification. Learn more about the structure of third-party audits, the costs, benefits and requirements of an internal audit system in this article.
→ Click here for the basics of food safety audits

IFS Food Version 8: The most important changes
The IFS Food Standard was introduced in 2002. With more than 20,000 certificates, IFS is one of the world's leading standards and the market leader in Europe. The IFS Food Standard audits products and production processes to assess a food manufacturer's ability to produce safe, authentic, high-quality food. IFS believes that version 8 sets a new standard and will help establish a vibrant culture of food safety.
→ Click here for the most important changes of IFS 8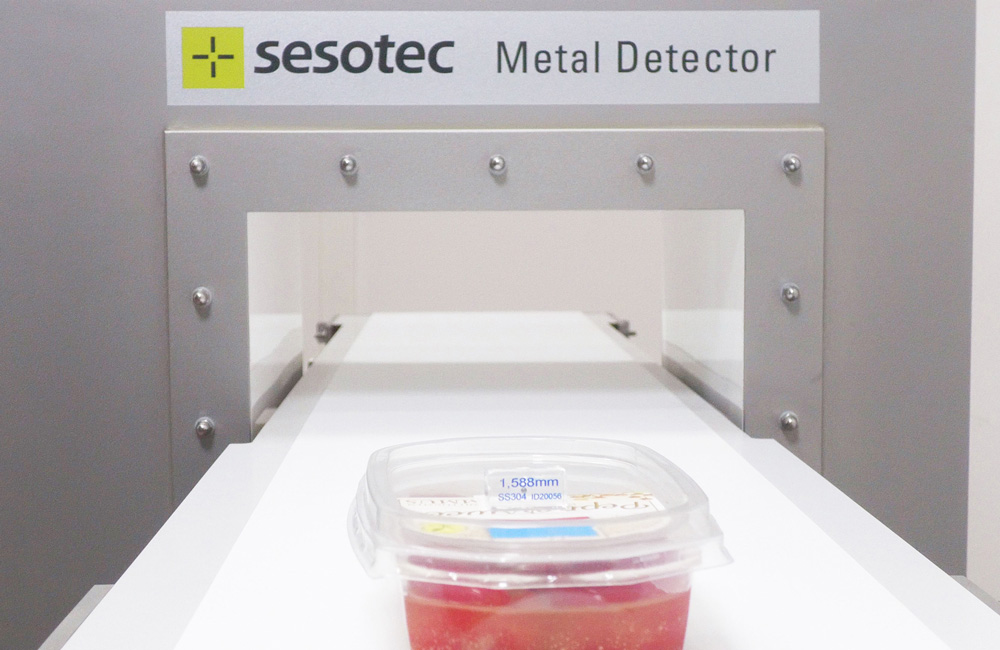 Product inspection and foreign object detection as an elementary component of food safety
How foreign particles detection is one of the keys to sustainable food production
This article examines the impact of unsafe, wasteful food processing on public health and our economic well-being, highlights the role of technological innovation in alleviating the problem, and offers a summary of recent breakthroughs in foreign object detection.
→ Find out more about the importance of foreign object detection in the food industry.

How to enable compliance and safety in the food industry with software systems
For you as a food manufacturer, product quality and productivity are top priorities. In addition, you are legally obliged to comply with a whole range of food standards. For inspection systems to work reliably, quality checks must be carried out regularly. We show you six steps that ensure the best detection performance of inspection systems and guideline-compliant production in the food industry.
→ Find out about the role of software systems in foreign object detection

How effective is your foreign material control programme?
Good quality management for foreign body controls not only protects the health of the consumer. Find out what foreign body management means and why it is not only important but also profitable in this article.
→ Learn more about the importance of effective foreign body management here

How to test foreign material detection systems: validation, verification and monitoring
Learn more about validation, verification and monitoring of inspection systems and their importance for foreign object management in the food industry.
→ Useful tips for testing product inspection systems

6 Priorities to evaluate when choosing a food X-ray system
X-ray inspection equipment is an essential technology for the global food industry, helping to ensure food quality and safety. But, although the operating principles of X-ray detection are always the same, not all X-ray detection systems are the same. To help food manufacturers and processors better evaluate the wide range of X-ray inspection equipment on the market and select the optimal system for their production process, we have developed a simple six-priority concept.
→ Learn how to choose the right X-ray system here

Modern X-ray equipment software for better detection, efficiency and compliance in the food industry
In this article we explain the benefits of high-tech X-ray inspection features for efficient food production and greater food safety.
→ Find out how modern software influences the performance of food X-ray systems
Why end-of-line inspection is not enough
Identifying and mastering control points (CP) and especially critical control points (CCP) are important aspects of food safety. The emphasis is often placed on critical control points and especially on End-of-Line inspection. However, the importance of upstream controls must not be ignored in order to be able to guarantee both product quality and profitability. In this article, we explain the differences between CPs and CCPs and address the importance and benefits of end-to-end control of the entire production line.
→ Learn, why end-of-line inspection is not enough