24/04/2018

|

Sesotec
Smart Sorting Systems Made By Sesotec
Modified FLAKE PURIFIER+ plastics sorting system and new SPEKTRUM SCOPE glass sorting system
At the IFAT 2018 trade fair that will be held in Munich from 14 to 18 May, Sesotec GmbH in hall B5, stand 415/514, will present the FLAKE PURIFIER+ multi-sensor sorting system that now as standard is equipped with a 3.2mm nozzle and valve grid, allows a higher throughput capacity, and is easy to operate with the "SesoDesk" operating software. As co-exhibitor Sesotec's partner company KRS Recycling Systems GmbH will be present at the IFAT trade fair stand with the new SPEKTRUM SCOPE glass sorting system. The SPEKTRUM SCOPE among others features a new NIR (near infrared) sensor unit.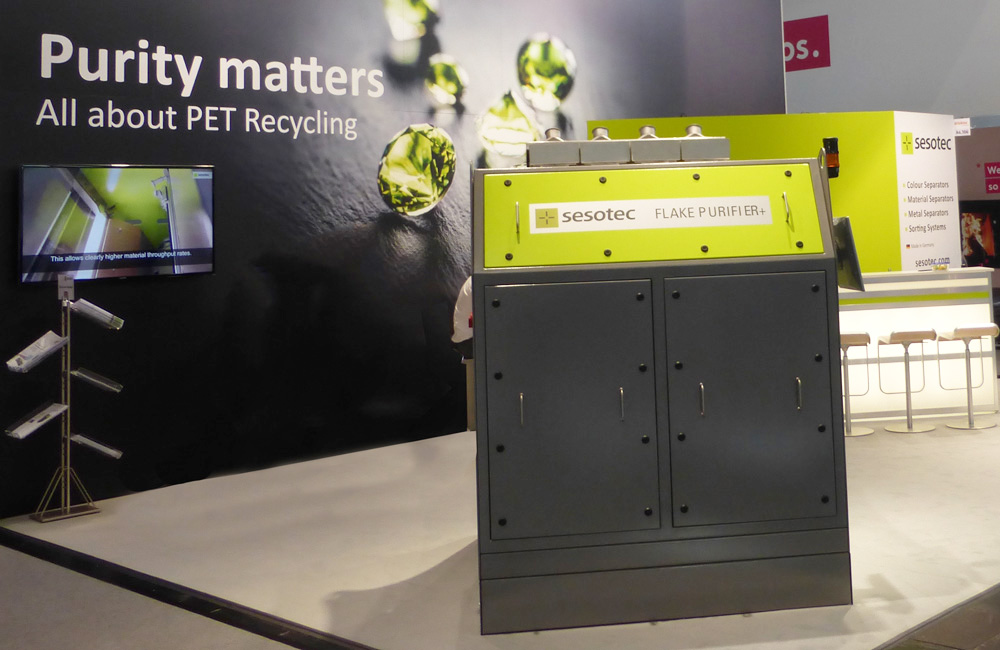 The modified FLAKE PURIFIER+ multi-sensor sorting system in addition to optimised material infeeding now also features a valve unit with doubled number of nozzles, which ensures higher precision in contaminant separation and a reduced loss of good material. Furthermore, the dust-proof design and the resort track that can be integrated in the FLAKE PURIFIER+ also increase efficiency in the recycling process, especially in cases with highly contaminated input material.
Michael Perl, head of BU Sorting Recycling at Sesotec, says about the FLAKE PURIFIER+: "For the modification of the FLAKE PURIFIER multi-sensor sorting system into the new-generation FLAKE PURIFIER+ the wishes of our customers for increased throughput capacities with minimised loss of good material, and thus an overall increase of value creation, were the decisive factors."
Together with KRS Recycling Systems, Sesotec for the first time present the SPEKTRUM SCOPE glass sorter that is equipped with the new Sesotec NIR sensor unit. With this sensor unit, for example, transparent plastics of the same colour can be differentiated in a flow of white cullet. Special glass types, among others borosilicate glass, also can be reliably detected. To allow even higher throughput capacities and more flexible plant planning, the working width of the SPEKTRUM series is extended to 1563 mm with the SPEKTRUM SCOPE.
For information about the systems presented at Sesotec's IFAT stand please visit
www.sesotec.com/en/ifat2018
.