22/05/2019

|

Sesotec
Detection of Plastics with X-Ray Systems in the Food Industry
Lecture by Sesotec X-ray Product Manager Uli Hurzlmeier concerning the "Food Safety" IFFA focus.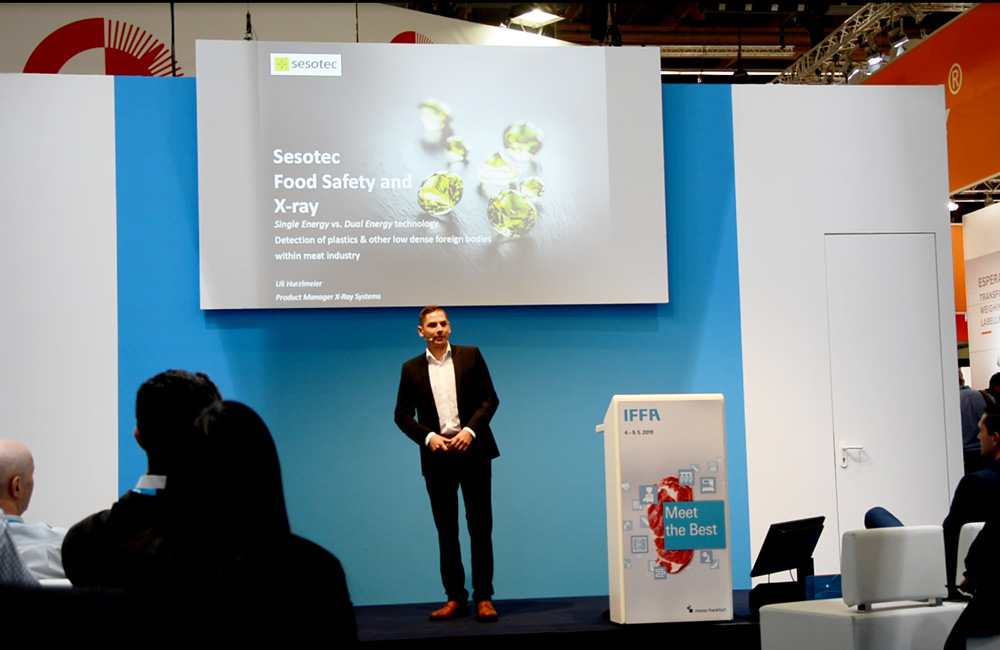 The supporting program of the IFFA this year again included the "IFFA Forum" that in technical lectures focuses on important industry trends. "Food Safety" was one of the top subjects. Uli Hurzlmeier, X-ray Product Manager of Sesotec GmbH, one of the leading manufacturers of product inspection and sorting systems, in this context gave a lecture on the subject of "Detection of plastics with Dual-Energy technology".
It is a fact that food products more and more often have to be recalled because they are contaminated with foreign particles - among others with plastics. To protect consumers against negative consequences, complete batches of products often must be withdrawn from the market. As an innovative solution approach for the detection of contaminants, especially of plastics, Uli Hurzlmeier presented the possibilities of X-ray inspection with Dual-Energy technology.
Conventional X-ray systems are able to detect contaminants such as metal particles and stones. Plastic and rubber contaminations due to their low density often are not detected. For the detection of plastic contaminations the Dual-Energy method offers an alternative solution.
If you are interested in the subject of "Detection of plastics with dual-energy technology" a video recording of Uli Hurzlmeier's lecture and the presentation charts are available here:
Download Lecture presentation

"Detection of plastics & other low dense foreign bodies within meat industry"