Oct 06, 2022

|
Granulate recovery and its importance for the plastics industry
For a successful circular economy, not only resource conservation and plastics recycling play an important role, but above all material efficiency. Far too much good material is still lost in the production of high-quality and pure plastic granulate. This material loss is not only to the detriment of our environment, it also means a reduction in productivity and profitability for plastics manufacturers and processors at the same time. The solution is innovative detection and separation systems for granulate recovery. They ensure that unintentionally rejected good material is not disposed of as waste, but finds its way back into the plastics cycle.




How does granulate loss occur?
Material loss during production not only has an immense impact on the environment, it also means that plastics manufacturers and processors see their profitability suffer. For this reason, plastics associations around the world are participating in an initiative called "Zero Pellet Loss" or "Operation Clean Sweep," which aims to prevent the loss of plastic pellets along the entire supply chain. This is also the case with the "Zero Pellet Loss" initiative from the Industrievereinigung Kunststoffverpackungen e.V. It has identified three process steps where plastic pellets are lost particularly frequently: at the unloading point in the silo area, during the handling of pellet containers and bags, and directly at the conveying systems and conveyor lines.
But it is mainly during production that significant granulate loss occurs. For example, metal separators, which are necessary to protect the equipment, inevitably also discharge contaminated material. However, this discharged material often contains a large proportion of good material in addition to the metal contaminants. Since the rejected material must then be disposed of, this automatically means loss of value and additional costs.
The advantages of granulate recovery
Effective recovery of this rejected good material has many advantages - for the environment as well as for the profitability of plastics manufacturers and processors. Precious resources are conserved, since the recovered granulate can be fed back into the process 1:1 as a valuable raw material without jeopardizing process reliability. At the same time, this has a positive effect on the profitability of the plastics processor or manufacturer.
The recovery of the rejected good material is also decisive for material efficiency, since with the aid of appropriate technologies almost 100% of this good material can be fed back into the process, so that only a tiny proportion has to be disposed of as waste. And last but not least, granulate recovery has a positive effect on the image of the respective company. In times like these, when environmental protection and the avoidance of plastic waste are increasingly attracting the interest of the public and consumers, only those who take responsibility and act accordingly will be successful in the long term.

Technologies for granulate recovery
With innovative metal separation units, contaminated plastic granulate can be reliably cleaned of magnetic and non-magnetic metal foreign bodies, regardless of where it comes from, and recovered for reuse in production. To do this, the material is first fed into the separation unit via a material hopper. The material is separated by the so-called vibrating chute and then passes through a magnet which separates ferrous metal parts. The pre-cleaned material then passes through a metal separator, which reliably removes the remaining magnetic and non-magnetic metal contaminants. What remains is the processed, pure granulate, which can be used again for production and does not have to be disposed of as waste. Depending on the dosage and settings, a recovery rate of up to 98 percent is possible.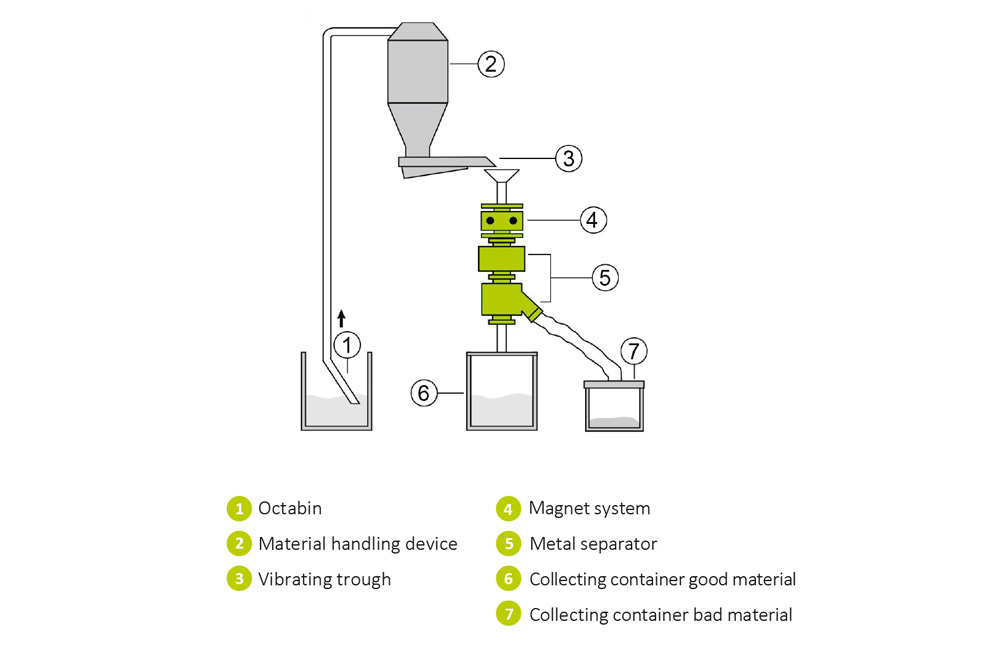 Such a metal separation unit has a positive effect on process reliability, as the smallest metal particles and even metal inclusions in the granules can be reliably detected and separated. If these remained undetected, they could in the worst case lead to damage to the equipment. These systems can be used both in incoming goods and in production and material storage. In this way, the causes of contamination can be quickly identified and a supplier quality check can be carried out as early as at goods receipt.
Conclusion
Far too much plastic granulate is wasted in the production and processing of plastics, which is neither ecologically nor economically tolerable. Increasing material efficiency is a crucial step for the plastics industry to combine economy and circularity. This can be remedied by state-of-the-art mobile metal separation units that reliably remove metal particles from plastic granulate that has previously been discharged from the production process. This not only saves valuable raw materials and costs, but also has a positive impact on the environment and the company's image.