Nov 21, 2023

|
How the pre-sorting of regrind contributes to profitable and highly efficient plastics processing
In the plastics processing industry, there are many reasons in favour of using recyclate and thus closing the plastics cycle. Like all used plastics, regrind must be as pure as possible so that the material can be utilised as a secondary raw material. Technologies for material sorting and foreign body detection play a decisive role in the removal of impurities: foreign bodies such as metals, different colors and types of plastic must be efficiently and reliably detected in regrind and separated or sorted fully automatically so that it can be used as recyclate. Pre-sorting is not only an instrument for quality assurance, but also an interesting approach for increasing profitability.




Challenges in the purchase of regrind materials
The plastics processing industry faces constantly increasing demands: Two very important points in relation to the material are the inconsistent material quality and the lack of material availability. There are not enough post-consumer recyclates (PCR) of consistently high quality, i.e. without foreign bodies, foreign colors and foreign plastics in the material, to meet market demand. Furthermore, there are no specifications that clearly regulate the quality of a recyclate.
Further challenges in the procurement of regrind are fluctuating raw material prices, complex supply chains and long delivery times.

Requirements of plastics processors
Material efficiency: Top-quality input material is essential for risk-free further processing in the drying, mixing or production process. If the quality is right, production can run smoothly and at maximum output.
Process reliability: Removing dust particles and foreign bodies from the input material prevents machine damage and ensures a reliable process flow. A defective system costs time and money due to production downtime and repair work.
Quality assurance: The early detection of impurities helps to ensure the highest quality of the end products and prevents potential damage to image and expensive recalls.

Cost efficiency: The use of regrind must be economically viable. Pre-sorting enables plastics processors to purchase input material with lower degrees of purity and therefore more favorable prices and still produce high-quality products.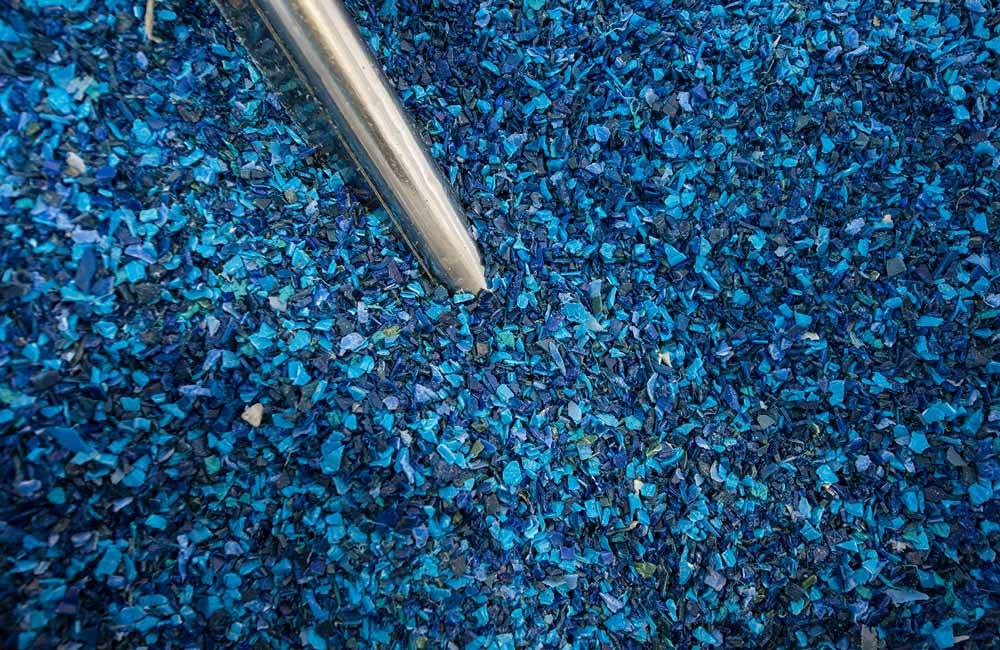 Complete solution for the use of regrind materials

Plastic processors should be able to take control of the quality of their input ground material so they can sustainably and reliably produce using recycled materials.
But how can this be achieved when quality, material availability and prices are constantly fluctuating?
The solution is a fully automated, efficient and reliable pre- and post-sorting system that detects and separates plastic types, colors and metals from ground materials of various qualities according to the production line's requirements.
This pre-sorting can take place completely independently of the further processing, for example by combining all relevant process steps on one compact platform.


Important process steps in the pre-sorting of plastics
Dedusting: Dust and fine particles are reliably separated from the regrind by a counterflow sifting system.
Material handling: Standard vacuum conveying devices with a central vacuum station ensure smooth material transport via the dedusting system to the sorter. Extraction can take place from containers, silos, big bags or even octabins.

Sorting: A compact multi-sensor sorting system with high-resolution sensors that can be combined as required. State-of-the-art signal evaluation technologies guarantee high detection accuracy and an evaluation rate of up to 500,000 parts per second. Possible sensors: Color and shape sensor, metal sensor and near-infrared sensor.

Central control: The conveyor technology and the sorting system are connected centrally via a control unit. An integrated automatic start and stop function ensures maximum operating convenience.

Platform: A stationary structural platform is designed for quick commissioning of the system. All required parts such as material conveying, dedusting and sorting are installed at the factory and are therefore ready for use in the shortest possible time.

The right application for every sorting requirement

Plastics processors have to flexibly handle input materials in varying qualities and different compositions.

Here are three examples of pre-sorting:
Class 1: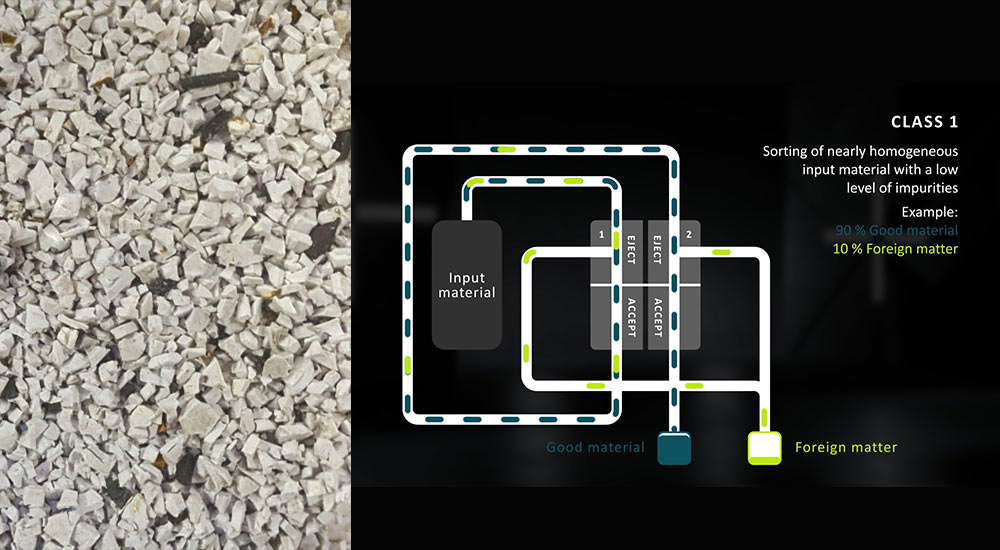 Class 2: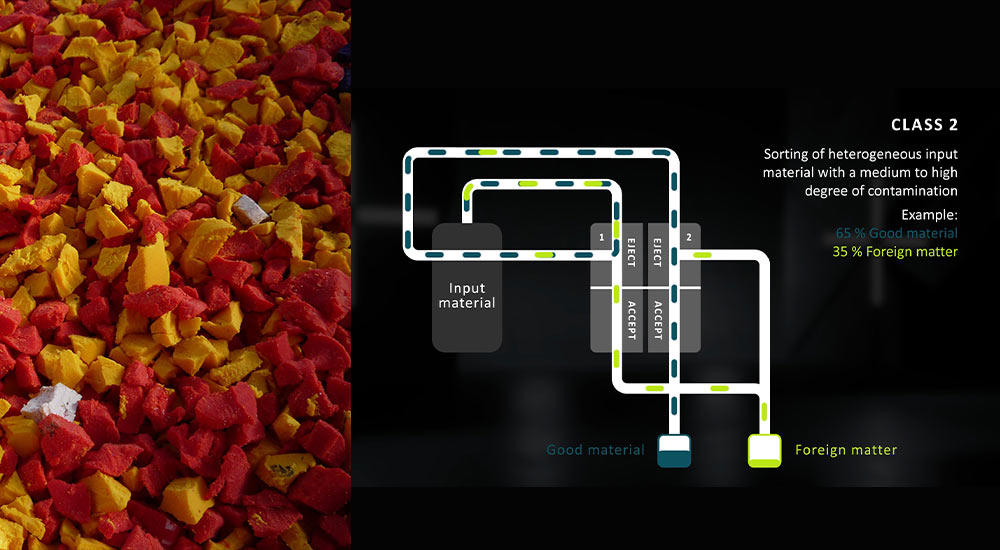 Class 3: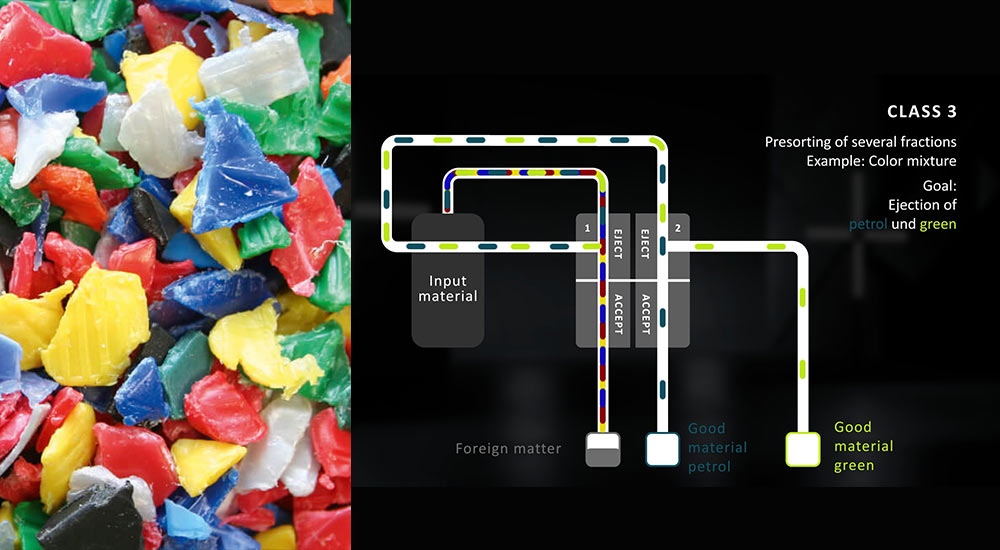 Conclusion: Advantages of pre-sorting for plastics processors
Impurities, color deviations and visual defects impair the quality of plastics. The goal is to increase the purity of the regrind before processing, which automatically means greater safety and higher quality of the end products.
The advantages of pre-sorting for plastics processors lie in being able to produce more independently, profitably and highly efficiently. A supply of high-quality and pure material is guaranteed, which enables economical and efficient production - an investment that quickly pays off.
---
PRE-SORT by Sesotec: Complex technology made simple and efficient.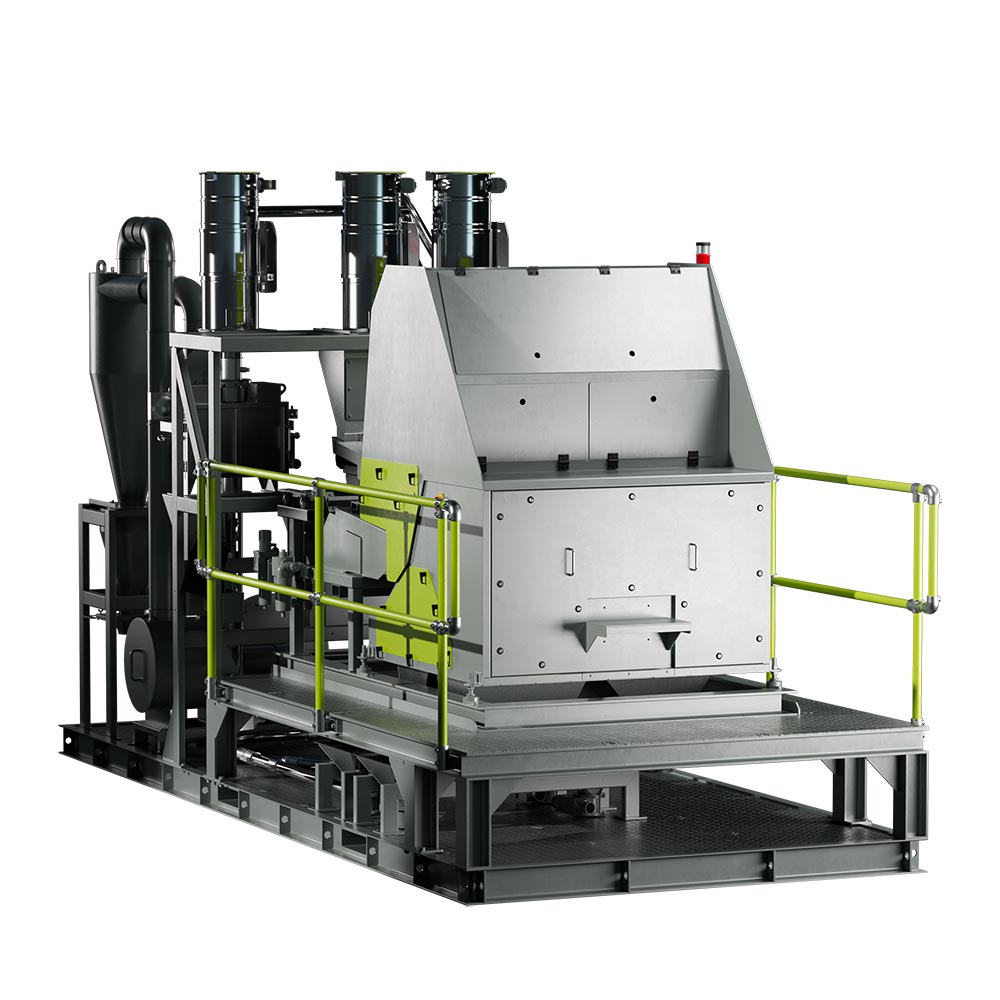 Multi-sensor sorting on one platform offers:
Mobility: Thanks to its design in the form of a self-contained sorting platform, the PRE-SORT can be transported from one location to another and can therefore be used flexibly and at different locations.
Process variability: The PRE-SORT offers maximum process flexibility thanks to any combination of sensors and a selection of different sorting processes. Thanks to two tracks for automated double sorting, the sorting platform also ensures first-class material quality.
Sensor flexibility: Intelligent sensors for color, polymer and metal sorting are combined in this device. Depending on the selected sensor combination, sorting can therefore be carried out according to colors, types of plastic and metals or only according to individual factors.