24/03/2023

|
Why end-of-line inspection is not enough
Identifying and mastering control points (CP) and especially critical control points (CCP) are important aspects of food safety.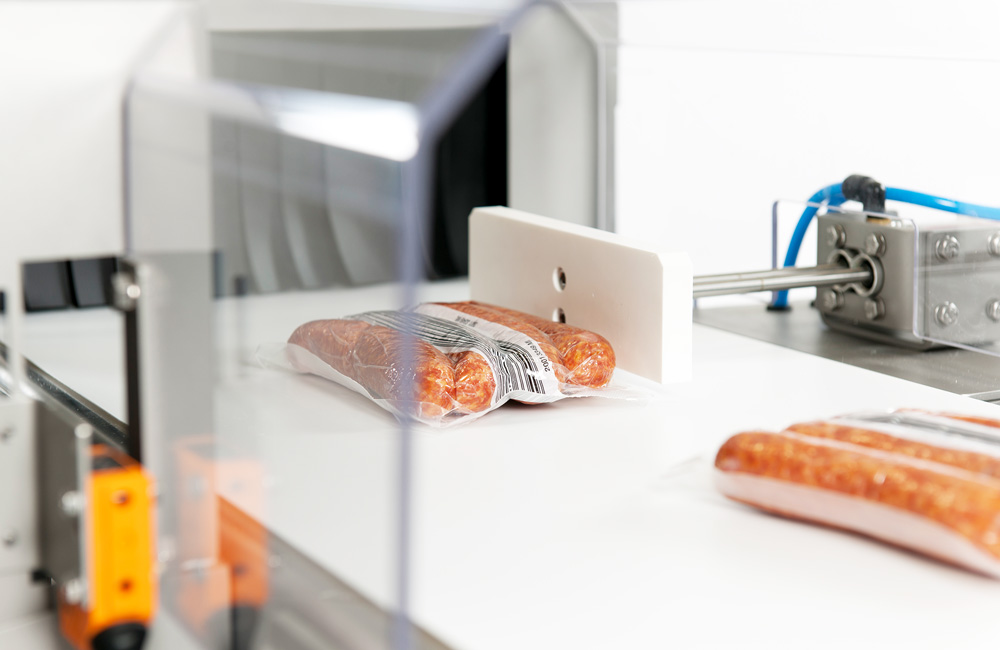 The emphasis is often placed on critical control points and especially on End-of-Line inspection. However, the importance of upstream controls must not be ignored in order to be able to guarantee both product quality and profitability. In this article, we explain the differences between CPs and CCPs and address the importance and benefits of end-to-end control of the entire production line.
What is a Control Point (CP)?
CPs are specific steps in the process chain that are regularly checked to ensure the specific characteristics of a food product.
They are specific points along the line (from incoming goods to outgoing goods) in a manufacturing process where control or monitoring can be carried out to ensure food safety. They are process points at which there is no increased risk of danger and which can be controlled by general hygiene and quality measures. Whether and which controls are carried out at these points is generally the decision of the manufacturer.
An example of a CP is the raw material inspection at the incoming goods department of a cereal manufacturer: The delivered nuts are examined with an X-ray inspection system for bulk goods to find foreign bodies (metals, stones).
What is a critical control point (CCP)?
CCPs are essential process steps where it is possible and critical to prevent, eliminate or reduce to an acceptable level a food safety hazard. Critical control points are process points where action must be taken to prevent or reduce a specific hazard/health risk.
It is important to identify critical points in the food production process so that appropriate control measures can be taken to reduce the risk of contamination. It is the final step, so to speak, to control, prevent or eliminate a contamination risk. CCPs are only useful if they are monitored regularly. Therefore, it is not only necessary to identify these points and set critical limits for each one, but also to collect and compile data to monitor the processes and determine when a hazardous situation occurs.
An example of a CCP is at the outgoing goods department of a cereal manufacturer: End-of-Line inspection of finished packages with selected foreign object detection technology (X-ray inspection systems or metal detection systems) to find foreign objects that may have entered the product during the manufacturing process.
The importance of End-of-Line foreign object detection

The identification of control points and critical control points (CCPs) is important in ensuring food safety. The "End-of-Line control point" is generally considered to be the most important critical control point. This is correct in that physical contamination can usually be ruled out after this point. It is therefore critical to the quality of the final product and the safety of the consumer.
Why is End-of-Line foreign object detection not enough?
End-of-Line control, as described above, is one of the most important points when it comes to food safety and a basic requirement of food standards such as IFS. However, an exclusive focus on this ignores important factors such as economic efficiency/value creation, sustainability and resource conservation as well as the traceability of contamination sources.

If foreign object detection is already carried out before and during the production process, this is associated with many advantages:
1. Foreign bodies, such as metals, glass, bones and many more, can be sorted out at an early stage, before they are broken down by mills and other crushing machines into countless small fragments, which may then be too small to be detected later in the final inspection.
2. Costly damage to downstream grinding equipment, extruders and calender rollers, which can lead to additional contamination, is avoided.
3. If contamination occurs, foreign body detection before and during the production process offers effective approaches for root cause research (suppliers, batches, machines, points in time, frequency distributions).
4. If contaminants in food are only detected at the goods issue (End-of-Line), finished products and often the entire batch must be disposed of. The food produced is wasted "for no reason". Incidentally, this also applies to the packaging used. With early detection of foreign bodies, only incomplete products or individual ingredients may have to be disposed of, which represents a significant contribution to resource conservation (raw materials, processing, energy, packaging, etc.).

5. Early detection of impurities can also prevent value-added losses. When finished, contaminated products have to be disposed of, many resources (time, raw materials, energy, etc.) have already gone into the product. If foreign bodies are detected in time, these resources do not have to be used. Costs for the disposal of entire products are eliminated. This increases efficiency and profitability.
Conclusion
The examination of already packaged food with foreign body detectors is part of the standard foreign body control routines of food manufacturers. However, a risk analysis usually shows that contaminants can be detected much earlier and efficiently avoided. Contamination can come from a wide variety of sources and process steps: incoming raw materials, screen and knife fragments, damaged machinery, operator carelessness or machine wear. The proportion of rejected goods or packaging can be significantly reduced if the raw materials are already inspected in the incoming goods department or the products are inspected with an inspection device during the production process.
Foreign object inspection should be carried out throughout the entire production process, from incoming goods, through processing, to outgoing goods. Only in this way can the food industry produce safe food, avoid wasting resources and thus ensure profitability.
Experts in inspection systems such as Sesotec offer innovative and highly sensitive foreign object detectors for all critical control points in the production process.