Product features
Analyzes flakes and regrind of materials such as PET, PP, HDPE, and mixed plastic flakes according to their material composition for polymer types, false colors, and metal particles
Combine up to three sensors: Color sensor, near-infrared sensor, metal sensor (optional)
Sample volume: up to 8 liters for representative results
Throughput: up to 20 kg/h
Simple operation via touchscreen
Automatic reporting and archiving of analysis results
SesoDesk operating software
Inspecting for polymer types, false colors, and metal particles
Analysis results can be displayed either in a table or in diagrams. Should predefined limits for polymer types or false colors be exceeded, this will be marked accordingly in the table. The amount of identified metal contaminants will also be displayed.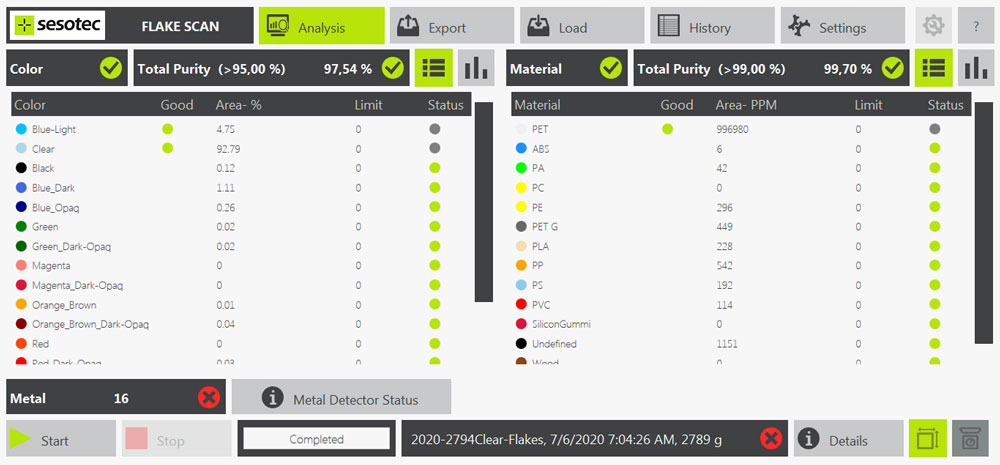 Saving data
From the "History" menu, you can quickly compare the purity and color quality of the current batch with those of archived samples.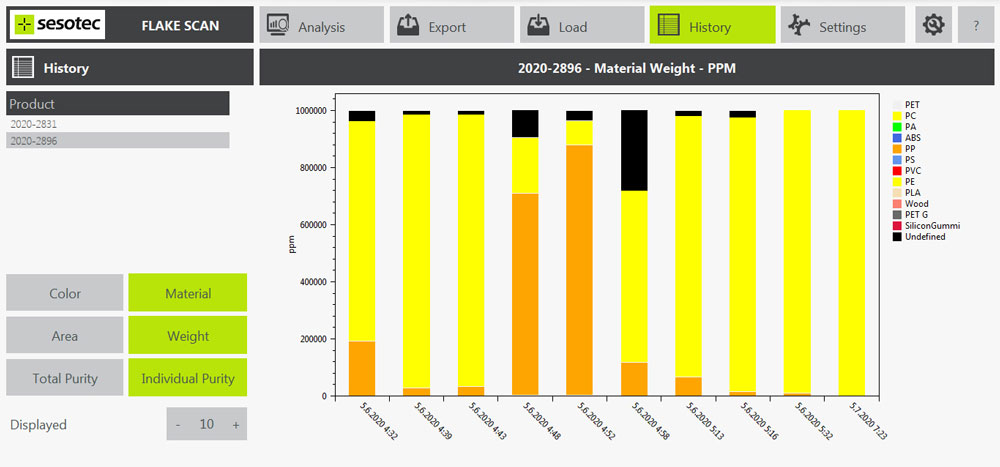 VISUDESK visualization software
With optional VISUDESK visualization software, you can see all process and usage data from your Sesotec sorting and metal detection devices in one comprehensive dashboard. This is possible by means of an OPC UA machine communication protocol implemented in each device as well as your company server.

The browser-based interface is accessible both on desktop and mobile. This dashboard provides a comprehensive overview of your entire sorting line as well as information about specific groups of devices, enabling you to quickly create equipment configurations and automate product changes.

Seamless backwards compatibility is possible via established VISUTEC protocols. Customizable e-mail and text alerts keep you informed about critical developments in the machine status.