The Integrated Validation Process (IVP) is a documentation tool and yields proof that the desired quality objectives for the respective product have been achieved. The goal or result of the Integrated Validation process is a Sesotec-created certificate with the validation results.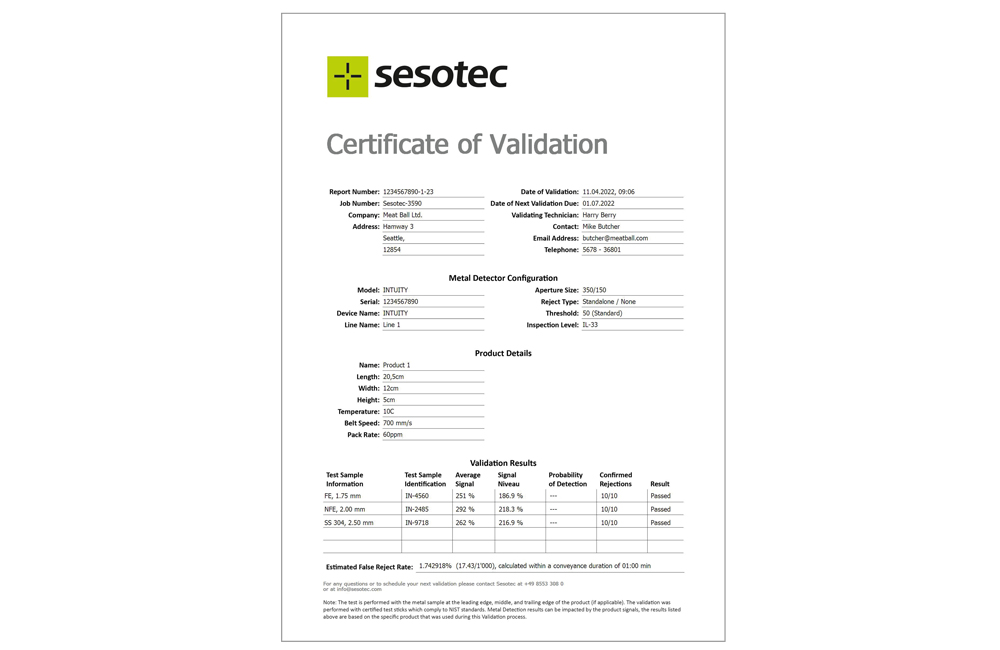 Advantages for the customer
Consistent validation
Automatic creation of a backup of all settings in order to be able to restore the device to the state of validation
Records in the metal detector
Setting realistic testing standards and ensuring compliance
Reliable reporting data
The user automatically receives a notification for the next validation, eliminating the need to apply stickers that wash off
The certificate can be saved in PDF format on a USB stick
*The customer can independently validate new products menu-driven and receives a "Report of Validation", which, however, does not replace the validation certificate for the annual audit by an external service provider (manufacturer).
Service offer
For all other existing installations (of the type G+, Primus+, GO, Intuity) our service offers the Manufacturer's Validation as a service. The service includes the preparation of the annual validation certificate and of a maintenance report. Among other things, a repeat test of the probability
of detection (P.O.D.) is carried out at the most unfavorable point of the metal detector using the specified test bodies.




Customer benefits:
Performance of the retest including evaluation and documentation
Determination of the limit value to provide further security for the customer during daily routine testing